Events
If you are planning to attend, please RSVP to JoAndChris@Janusnode.com.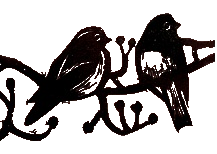 The theme is love birds: Expect feathers and flocking together!
A family-only 'wedding rehearsal dinner' is planned at the vegetarian restaurant Padmanadi (10740 101 Street) starting at 6:30 PM on Thursday May 19th. The food will be pre-ordered so don't be too late or you will miss it! If you are a blood- or marriage-relation of the bride or groom or have traveled a great distance to be with us during the wedding weekend or are a member of the bridal party, please feel free to attend. (If you fall into one these categories but don't plan to attend the rehearsal dinner, please let us know so we can adjust the numbers.)
The Alleyne/Westbury Wedding
We are getting married in a small family-only wedding in the Jasper room at the Fairmont Hotel McDonald (10065 100th Street) at 6:30 PM on Friday May 20th. Dinner and cocktails will be served.
The Alleyne/Westbury Wedding Reception
We will be celebrating our marriage with our friends at a champagne reception and dance on Saturday May 21st, at Cafe Leva (11053 86th Avenue) from 7 PM until late. Fancy dress and dancing shoes are suggested. (By 'fancy dress', we do not mean Hallowe'en costumes. Thanks for checking.) Drinks and snacks will be served.
Breaking news: May 21, 2011 may not be the best day for a party.
The Alleyne/Westbury Post-Wedding Gathering
If you have not had enough of celebrating by Sunday, please join us for an informal open house hosted by the bride's parents, Brian and Antoinette Alleyne, on Sunday May 22 from noon until later, at the Westbury/Alleyne home: 11023 85th Avenue.
Accommodations
Campus Tower Suite Hotel
The official hotel of the Alleyne/Westbury wedding is the Campus Tower Suite Hotel (11145 87 Avenue Northwest), which is within easy walking distance of the venues for the good times on Saturday and Sunday. They have a wedding rate if you mention that you are there for the Alleyne/Westbury wedding.
Fairmont Hotel McDonald
The Fairmont Hotel McDonald (10065 100th Street) is located in downtown Edmonton overlooking the river valley. It is very convenient for the wedding, which is in the hotel, but it is a taxi or LRT ride away from the venues for the wedding-related activities on Saturday and Sunday.
Getting your bearings
The maps below will guide you to these three main wedding locations, as well as the official hotel of the Alleyne/Westbury wedding.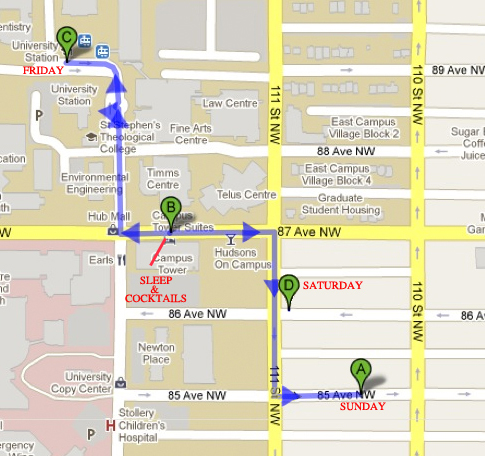 The official hotel is at B. There is a bar/restaurant in the building (Earl's, a Canadian mid-range chain restaurant with a decent cocktail menu) where you can get refreshment as needed. If you are lucky, you may find other guests enjoying a cocktail there before, between, or after scheduled events. If you do, offer to buy them a drink!
If you want some real nightlife, try walking down to Whyte Avenue (= 82nd Avenue) and head east (turn left if walking down from the hotel). This is the university bar & restaurant strip and there are plenty of each.
If you are staying at the official hotel and coming to the wedding on Friday, you can take Light Rail Transit (Edmonton's subway; fare = $2.85) from the University Station at C, a short walk away: Consult the map below for what to do when you get out at Central Station, which is a short walk away from the Fairmont Hotel McDonald. Of course you can take a taxi if you prefer: it will probably cost about $10, so it is actually cheaper to take a cab than to take the LRT if you can find at least three other people going to the same place.
The reception on Saturday evening takes place at D, a two to three minute walk from the hotel at B. Look for the tent.
The post-wedding good times continue on Sunday at A, about a five minute walk from the hotel.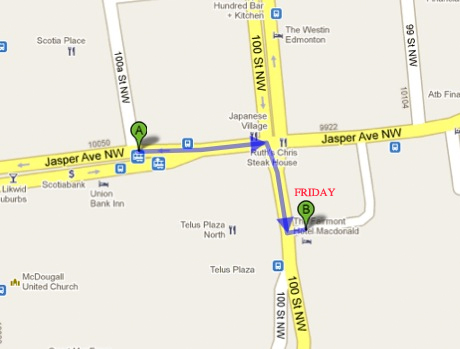 In map above, A is the Central LRT Station, where you should exit the LRT if you take it on Friday. It takes about three minutes to walk to B, where the wedding will take place on Friday evening.
Registry
We have a gift registry at The Bay. There are only a few items, but they are mostly big ticket items (a new bed, a new dishwasher, open-ended travel....): of course you can chip in any amount you please towards one of them by buying a gift certificate at the top.
Thanks for celebrating with us!